Are you heading into an exciting new adventure that requires you to buy or sell a property? If so, you will need a high-quality property surveyor in the London area with local knowledge to assist you.
Foundation Surveyors is an independent company based in North London providing highly skilled RICS surveyors please call us on 020 8133 9517 to speak to an advisor.
Property Surveys: RICS Chartered Surveyors
If you are purchasing a new home an independently instructed RICS Home Buyer Report will give you the information you need regarding the property and any potential issues.
We can also provide a RICS Condition Report and a more extensive RICS Building Survey.
If you are not sure which report best suits your needs, then you can contact us to discuss the options.
Valuations: Residential and Commercial Property Portfolio Valuations
Our dedicated Valuations Team has extensive experience undertaking true market valuations in London. We can provide valuations for residential and commercial properties giving you an accurate and independent report of our findings.
We also deal with inheritance tax and probate, valuations for insurance purposes, and assessing business rates.
Lease Extension and Collective Enfranchisement in London
First step is to calculate the cost of extending your lease. The next step may include a Full Inspection Valuation to prepare a case for agreeing the cost with the freeholder. Foundation Surveyors will then negotiate the price on your behalf. Other lease services include attending tribunals to settle disagreements.
We also produce Collective Enfranchisement Full Inspection Reports for leaseholders interested in buying the freehold of their property.
Contact Us
If you'd like to speak to a specialist to discuss what Foundation Surveyors can do for you then please contact us.
Get a Call Back Within 24 Hours!
OUR CHARTERED SURVEYOR SERVICE
When you choose Foundation Surveyors London you are picking the company that has the most rigorous standards in London set for our chartered surveyors. Each RICS registered surveyor goes through demanding training to ensure you receive the advice you require. Foundation Surveyors London gives each of our local surveyors the in depth on the job training to understand exactly what our clients need and how to help them.
Foundation Surveyors is well placed to give you the attention to detail that you require when instructing a building structural survey or a homebuyer report. We have all the necessary system of checks and communication structures in place to ensure that you receive the highest quality service.
When you choose us to help with the valuation of a property you will receive the individualised attention that is required to do the job right. We promise that any property survey cost you encounter with Foundation Surveyors London will be due to the high level of care that we take while working on your chartered surveyor services. We pride ourselves on providing an affordable set of surveyor services of the highest quality.
Everything that we do will help you get the most out of your house valuation, RICS condition survey, RICS HomeBuyer Report or any other chartered surveyor service. You will receive the highest quality advice from our RICS registered chartered surveyor experts. We will work hard with you to get the most out of your property.
One thing that you do not have to worry about is the cost of your property survey. There is no risk in giving us a call and finding out if the most experienced cost effective chartered surveyors in London can help you!
What Our Local Surveyors Can Do for You?
The RICS registered chartered surveyors that we hire here at Foundation Surveyors London are able to help you with your chartered surveying needs. There are numerous details to consider when you are needing a RICS condition survey, homebuyer report, lease extension or a detailed building survey. We have a dedicated team to deal with all your survey and valuation requirements.
No one at Foundation Surveyors London expects you to be an expert when it comes to determining the value of your property, but we know that you are invested. That is why all of our local surveyors are trained to communicate consistently and answer any questions that you have during your survey or valuation. No matter what you need to know, just let our RICS registered chartered surveyors know and we will swiftly deal with any enquiry you may have.
There is absolutely no better place to go when looking for the highest quality chartered surveyors in London. With our superb local surveyors, attention to detail and high quality customer service, you will get the best service in London with Foundation Surveyors London.
When it comes to property values, RICS homebuyer reports, condition surveys, lease extensions or any other service you may need from chartered surveyors in London, we are available to help. Each of our RICS qualified surveying experts will give you the service you need with the best customer service in the industry.
If you have been wondering how much is your house worth or you are in need of a RICS survey or valuation, give us a call today. The best Property Surveyors in London are more than able to take care of all your survey and valuation requirements. If you want to know more about what we can do to help with your chartered surveyor needs, give us a call. We are certain that we can prove to you why we employ the best-chartered surveyors in London!
OUR SERVICES
Foundation Surveyors London is an independent company that has a breadth of experience working with various types of property including both residential and commercial properties. We offer numerous services to our clients; here is a peak into some of the most common services that we provide. The key to providing the best chartered surveyor services is attention to detail, communication, and a deep care for our customers. Foundation Surveyors London works hard to provide you with the individual attention that you require from a chartered surveyor. All of our RICS surveyors communicate with customers in detail throughout the process and to ensure that you get the most out of our services.
Licensed and Detailed Valuation of Property in London
The highly trained experts employed at Foundation Surveyors London are capable of handling a wide range property services for our clients in the London area. Each of our RICS qualified surveyors are able to offer complete and detailed advice on a wide variety of issues with properties of all kind. There is no better place to get advice from local surveyors.
We provide property survey and valuation services for a wide range of commercial and residential properties. Any shape and any size, it does not matter with the expert team at Foundation Surveyors London. Our highly qualified chartered surveyors in London can provide you with an accurate survey and valuation of your property.
No matter what questions you have during your property survey or valuation, you can always contact our chartered surveyors. If you want to discuss what our local surveyors can do for you, just give us a call and we will be happy to talk it through.
What Makes Our RICS Qualified Surveying Special?
You can find plenty of chartered surveyors in London, but not all surveyors are the same. When you choose Foundation Surveyors London, you are selecting one of the best RICS registered surveyor firms in London, where you will receive high quality customer service. Each surveyor we send out works hard to communicate with customers throughout all valuations and surveys. Call Foundation Chartered Surveyors London today and get the individual attention you deserve!
Our Location
Address: 160 High Road, London, N15 4NU
Phone: 020 8133 9517
E-Mail: info@foundationsurveyors.com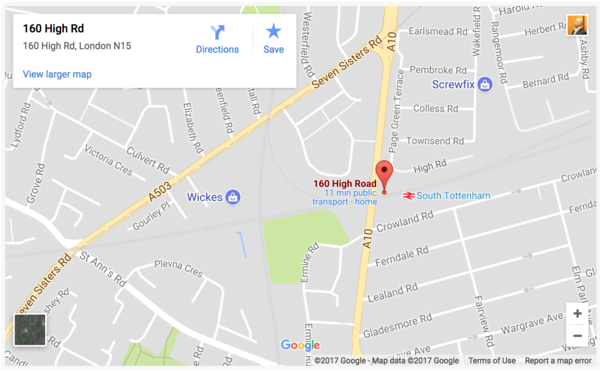 Contact Us